Description Hotel Radisson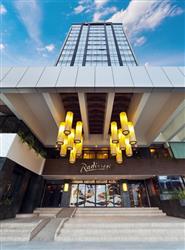 The Radisson Hotel and Suites is located in the heart of Guatemala City's hotel zone and within the entertainment district "Zona Viva". This area of the city offers you a combination of diverse cultural activities, world class food, fantastic nightlife, superior shopping, and a variety of outdoor recreational activities close to the city. The Hotel Radisson was renovated in 2007 and offers 115 elegant yet comfortable suites. The hotel also includes a concierge and a large convention center and features a Family and a Ladies floor. Guests can also enjoy a fitness center with sauna and massage services. Wireless high-speed Internet access is available in all public areas and the hotel includes a business center, laundry and dry cleaning services. A fine restaurant, Sushi bar, cafeteria, shops and a business center round out the services of this pleasant hotel.
Amenities Hotel Radisson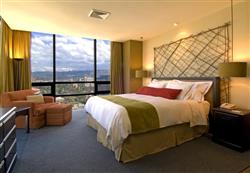 The Hotel Radisson in Guatemala City features 115 suites, available as Jr. Suite or as Premier Suite. The Jr. Suite includes kitchenette, sofa bed and two chairs while the Premier Suite is larger and features two separate living spaces and a great city view in addition to the amenities of the regular suite. All suites are equipped with floor to ceiling windows, high-speed Internet access, cable TV, working areas, mini bar, coffee maker and ironing boards. The bathrooms are fitted with bathtub and hair dryer. The Hotel is 7 minutes from the International Airport La Aurora and 10 minutes from the National Theater and several other attractions.
The Hotel Radisson is a long time favorite. It offers spacious suites in the heart of Guatemala City's hotel zone, WiFi throughout the hotel and easy access to sight-seeing, shopping attractions and the International Airport.

Hotel Amenities:
Room Amenities:
2 Restaurants
WiFi / High-speed Internet
Business Center
Laundry Services
Family/Ladies Floors
Concierge
Fitness Center
Conference rooms
Cable TV / Radio / Alarm clock
Kitchenette
Telephone / Voicemail
Coffee / Tea Maker
Safety Deposit Box
A/C
Mini Bar
Sofa bed
Hair Dryer
Non-smoking rooms
Reservation
Hotel Radisson
To reserve this hotel, please complete this form, along with any comments. Required fields are marked *