Guatemala
Top Destinations
Chichicastenango
Guatemala travel destination
Chichicastenango is a small and stucco-white town, lying on the crests of mountaintops at an altitude of 1,965 meters. It is located about 140 km and 2-3 hours drive northwest of Guatemala City and is home to what is surely the most colorful native market in North and Central America, perhaps in all the Americas.

The famous handicraft market of Chichicastenango draws not only the K'iche' Maya of the surrounding region, but vendors from all over Guatemala. They represent many of Guatemala's linguistic groups such as Mam, Ixil, Kaqchikel and others, each hawking his or her products in a riotous cacophony of color, dialects and costumes, smoke, and smells. This town in the mountains of Quiche has been, since pre-Hispanic times, one of the largest trading centers in the Maya area.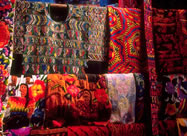 Vendors begin setting up portable booths in the main plaza and adjacent streets of "Chichi" the night before and set-up continues in the early daylight hours. Outstanding among the items offered are textiles, particularly the women's blouses. The manufacture of masks, used by dancers in traditional dances has also made this city famous for woodcarving. Much of what is sold is of good quality, but there is also products in Chichi's many factories for the not-so-discerning foreign companies.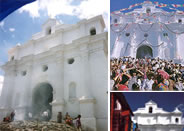 Another major attraction in Chichicastenango is the 400-year old church of Santo Tomas which is situated next to the market. Shamans still use it for their rituals, burning incense and candles and in special cases a chicken for the gods. Each of the 18 stairs that lead up to the church stands for one month of the Mayan calendar year. The Mayan calendar has 18 month of 20 days each.
Guatemala
Reservation
Services
Guatemala Packages
Leading Hotels in Chichicastenango



Tours to
Chichicastenango:

(Thursdays/Sundays)
leaving from
Guatemala City $100
Antigua $80
Panajachel $72