Description Camino Real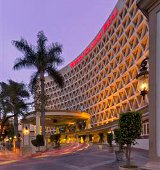 The Hotel Westin Camino Real is among Guatemala's finest hotels. It is located in the heart of Guatemala City's "Zona Viva", the capital's hub for business, shopping and entertainment, and just minutes from the International Airport "La Aurora".
The Hotel's Cabaña Club has a heated pool, two floodlight tennis courts with a resident pro, a professionally equipped gym with sauna, steam bath, massage room and indoor and outdoor Jacuzzis and spa to complement your stay at the Westin Camino Real. Upon request the hotel arranges golf at a nearby 18-hole championship course.
Amenities Camino Real
Accommodations: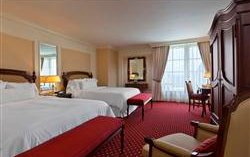 The five-star Westin Camino Real Hotel offers 271 rooms with central air conditioning, wall to wall carpeting, minibar, cable TV, electronic room locks, smoke detectors, sprinklers and safe deposit boxes in every room. You have the option between non-smoking or handicapped rooms and the "Premier" floor - offering additional luxury superior to any hotel in Guatemala, or the "Westin Guest Office" floor in which every room has hookup terminals for computers and access to printers, photocopier and fax. The amenities go beyond the rooms!
Dining and entertainment:
The Hotel has 15 majestic conference rooms which, added to the Convention Center's 15 salons, total over 26,900 square feet of meeting space. That is the biggest capacity in Central America. All of these conference rooms are available for your meetings, conventions,seminars, receptions and banquet requirements. The grand ballroom, Los Lagos, can be partitioned to accommodate five different functions simultaneously, varying in size from 10 to 1,200 persons. The Cafetal I and II meeting rooms are located next to the ballroom and there are five more air-conditioned hospitality suites on the second floor of the Camino Real Tower with facilities for up to 40 persons each. The La Ronda meeting room can accommodate 200 people for receptions or 125 banquet style.

Hotel Amenities:
Room Amenities:
15 Salons Convention Centers
Seminars
Receptions and banquet requirements
Mini bar
Cable TV
Air Conditioning
Electronic room locks
Smoke detectors
Sprinklers and safe deposit boxes
Reservation
Hotel Camino Real
To reserve this hotel, please complete this form, along with any comments. Required fields are marked *