Guatemala
Top Destinations
Copan Honduras
Guatemala travel destination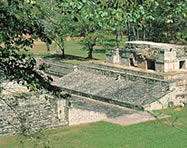 The Copan Ruins are located in the western part of Honduras, about 15 kilometers (9.3 miles) from the border with Guatemala. Copan - known as Xukpi to the Maya - was the dominant Mayan city in the south of their territory. Its rich stone sculptures and intricate hieroglyphs make Copan a feature attraction along "La Ruta Maya".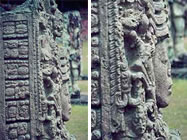 During the reign of its most illustrious king, Waxak Lahun Ubah K'awil (also known as "18 Rabbit"), the royal sculptors of Copan displayed their innovative talents in many stelae that 18 Rabbit commissioned, as illustrated here with Stelae A. Erected in A.D. 731, 18 Rabbit depicts himself as Chak.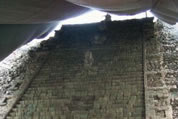 The Hieroglyphic Stairway includes the longest single glyphic text found at any Maya site. When it was discovered, the blocks were found tumbled down on the ground in disarray. Archaeologists struggled to assemble the blocks in their correct positions. It now appears that the stairway commemorates Copan Rulers 1 through 15 and was built by Smoke Shell. Among other things, it records the death of 18 Rabbit.
Guatemala
Reservation
Services