Guatemala
Top Destinations
Colonial History of Guatemala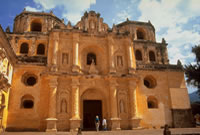 The Colonial History of Guatemala begins with the arrival of the conquistador Pedro de Alvarado in 1524 and ends with the Guatemala's declaration of independence in 1821. While Guatemala was part of the Viceroyalty of Mexico, it functioned separately as a Captain General and included what is now Chiapas, part of Yucatan, Guatemala, El Salvador, Honduras, Nicaragua and Costa Rica.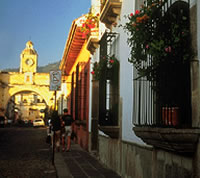 "La Antigua Guatemala", the colonial capital of Central America was founded with the name of Santiago de Guatemala in 1543. It was the cultural, economic, religious, political and educational center for the entire region until the capital was moved to present day Guatemala City after the damaging earthquakes of 1773. The conquerors chose this location since the previous capital had flooded in 1541 and the valley provided a sufficient source of water and offers one of the best climates in the world. The fertile soil that surrounds Antigua was also an attraction.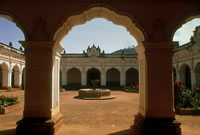 More than 30 monastic orders called Antigua home and built stunning monasteries, convents and cathedrals in the town. One of the first planned cities in the New World, its urban design is a traditional Spanish grid - eight by eight blocks. Because of its importance and preservation as a Colonial City, UNESCO declared Antigua "Heritage of Humanity". Since many of the colonial houses have also been preserved, you feel time might have stopped over 300 years ago. From its architecture to its beautiful surroundings; experience the splendors of Spanish Colonial Times!.
But not only Antigua has Colonial History to offer. Traveling throughout Guatemala, you will see churches, buildings and fountains from Colonial times.
Guatemala
Reservation
Services