Description Viva Clarion Suites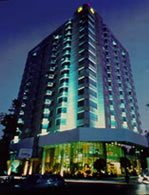 The Hotel Viva Clarion Suites is an All Suites Hotel situated in the heart of Zona Viva, with nearby shopping and entertainment, and close to the business district of Guatemala. The recently renovated Hotel Clarion also features a women business floor, the Viva elite floor and the Suites Deluxe floor. There is high-speed Internet access in all suites (additional cost) and free wireless Internet in public areas. Other amenities of the hotel include a gym, business center, parking garage, executive lounge, restaurant and bar and several meeting rooms.
Amenities Viva Clarion Suites
The Hotel Clarion Suites offers 172 comfortable Suites, all with a living room and separate bedroom, tastefully decorated and with a panoramic view of the city, the mountains and volcanoes. Also available are 1 presidential suite and 2 master suites situated on the penthouse floor. All suites are equipped with central air conditioning, 2 color TV's, 3 telephones, coffee maker and hair dryer, mini-bar and safety deposit boxes, direct access to international phone calls, direct access to the Internet, independent work area, computer and fax modem outlets. Non smoking rooms available on request.
The recently renovated Hotel Viva Clarion Suites offers spacious suites in the center of Guatemala City.

Hotel Amenities:
Room Amenities:
Restaurant / Bar
Wireless Internet
Business Center
Meeting rooms
Parking
Room service
Laundry service
Gymnasium
Babysitter service
Internet (add. cost)
2 Color TV's
Coffee maker
Minibar
Safety deposit box
Air conditioning
3 Telephones
Hair Dryer
Work area
Fax & Modem outlets
Reservation
Hotel Viva Clarion Suites
To reserve this hotel, please complete this form, along with any comments. Required fields are marked *