Guatemala
Top Destinations
Pacific Coast
Guatemala travel destination
The Pacific coastline of Guatemala stretches 250km (155 miles) from the Mexican border in the West to the border with El Salvador to the East. The area offers black volcanic sand beaches along the coast; mangrove swamps irrigated by numerous rivers behind and lush, subtropical forests further inland. Agriculture is the prime industry, with extensive coffee, sugar cane, cotton and banana plantations. As well as enjoying water-sports and swimming on the coast and exploring the rainforests and swamps with their unique habitats, visitors can also tour several important archaeological sites.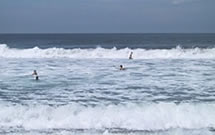 After Puerto Barrios on the Caribbean, Puerto Quetzal is the country's second-largest port, which is connected to Guatemala City by a modern highway. There are several seaside resorts on either side of Puerto Quetzal where a variety of water-sports are available. The waters here have abundant marine life (such as red snapper, tarpon, bass and sailfish) and the sea fishing is rated very highly.
To the west, an interesting journey can be taken from the Old Spanish port of Iztapa through the Chiquimulilla Canal, which runs through mangrove swamps rich with plant life such as water lilies and irises. This canal is part of the Monterrico Nature Reserve, which was created to conserve coastal wildlife such as the green iguana, marine turtle and crocodile.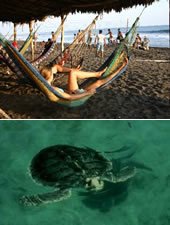 Monterrico is probably the most popular beach destination in Guatemala and the little town offers several hotels and restaurants. To get to town, visitors leave their cars in a parking lot and take a boat for a short ride through mangroves along the Chiquimulilla Canal. Monterrico is a great place to relax, eating fresh seafood and of course for swimming. The Monterrico Natural Reserve includes mangrove swamps and lagoons. Those areas are a great place for bird watching. The park also has a center for protecting sea turtles and a small zoo featuring local animals.
Guatemala
Reservation
Services
Guatemala Tours:
Guatemala Packages:
Leading Hotels in the Pacific Coast