Lake Izabal and Caribbean Coast
Guatemala travel destination
On Guatemala's Caribbean coast visitors will see the country's largest lake, the old Spanish fortress of San Felipe or travel down a lovely jungle river bounded by lush tropical forest to a Garifuna village.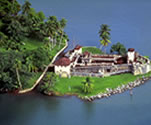 Lake Izabal is more than 45 kilometers long and covering about 590 square kilometers. It is surrounded by lush tropical rainforest inhabited by hundreds of bird species, monkeys and many other animals. The waters of the lake are rich in fish. Unique to the lake is the fresh-water sea cow (manatee), a mammal that can weigh up to a ton. This species is in danger of extinction and the manatees are the largest mammals in the country.
The old Spanish fortress of San Felipe is found near the town of Frontera, where a bridge spans the the Rio Dulce. This small fortress was built in 1651-2 at the lake's mouth, to keep out marauding pirates. Later it served as a prison and was reconstructed as a historical monument in 1956.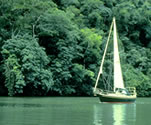 The Rio Dulce (sweet river) runs about 40 kilometers from Lake Izabal before it empties into Amatique Bay at Livingston. At its upper end there is the town of Frontera. Downstream, the river widens into an area known as Golfete, before flowing through a narrow, spectacular gorge and then on the bay. Boat tours begin in Frontera or in Livingston.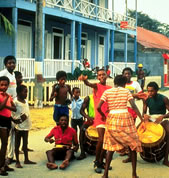 Livingston, a charming town located at the mouth of the Rio Dulce, is unique in Guatemala due to its Garifuna culture. Originally a mix between a native tribe, the Kalipuna's and slaves from Nigeria mixed in the 17th century and conserved their own language, music and religion. Livingston can only be accessed by boats traveling across the bay from Puerto Barrios or down the Rio Dulce from Frontera.
Puerto Barrios is a convenient base for tours in the region. Boats depart regularly from Barrios for Livingston and Belize. Puerto Barrios is also the capital of Izabal state and once was a busy place before the modern port of Santo Tomas de Castilla was built nearby.