Description Hotel Intercontinental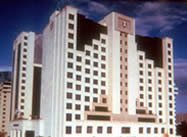 The Hotel Intercontinental is located in the "Zona Viva," the place for business and night life in Guatemala. In walking distance from malls, shops, bars, restaurants, night clubs, and others, it makes an excellent base for all your Guatemala City "affairs". The Hotel Intercontinental is part of a shopping and business complex which includes a 14 story office building and several shops. It is only 10 minutes away from the International Airport "La Aurora" and the historical downtown where the office of the President, Congress, Supreme Court and many other government agencies are located.
Amenities Hotel Intercontinental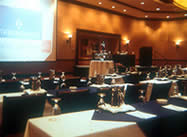 With 24 specialy equipped business rooms located on the second floor it is the first choice for business travelers. A modern and efficient Business Center is available to all our guests and visitors. It offers all services and high technology equipment that the business traveler needs. Attended by highly qualified bilingual personnel, the Business Center offers additional facilities such as secretarial assistance, translation service, printing and photocopying station, send/receive fax service, messaging, cellular phone and audio visual equipment rental, among others. There are also modern computers and a private meeting room for up to 10 people that is designed for video and teleconferencing.
Accommodations: A total of
239 luxurious rooms are divided into: 1 Presidential Suite, 6 Jr. Suites, 32 Intercontinental Club rooms, 24 Business rooms and
176 elegantly decorated standard rooms.

Additional services: Laundry and dry cleaning express service, a commercial art gallery, situated on the lobby level, luxurious stores, airline representatives,
jewellery & perfume shop, boutiques, cigars & tobaccos, library, etc.

The Hotel Intercontinental also features an exercise room, an outdoor pool, a solarium and a new view over the City.
Room facilities include 25" cable TV with "pay per view", 3 phones / 2 direct dial telephone lines, voice mail data port connection, direct internet access, electronic safety deposit box, AM/FM radio with alarm clock, Mini-Bar and hair dryer

Hotel Amenities:
Room Amenities:
1 Presidential Suite
6 Jr. Suites
32 Intercontinental Club rooms
24 Business rooms
176 elegantly decorated standard rooms
Outdoor Pool
Laundry and dry cleaning express service
A commercial art gallery
Situated on the lobby level
Luxurious stores
Airline representatives
Jewellery & perfume shop
Boutiques
Cigars & tobaccos
Library
Reservation
Hotel Intercontinental
To reserve this hotel, please complete this form, along with any comments. Required fields are marked *