Description Hotel Stofella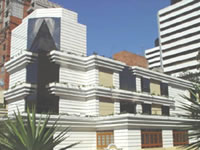 The Best Western Hotel Stofella is located in the heart of the Zona Viva's most exclusive area. It is surrounded by exclusive stores, office buildings, residential areas and the lively nightlife offered by the abundant restaurants and nightclubs of Zona Viva in Guatemala City. The Hotel Stofella is ideal for business and leisure travelers alike and offers all of the conveniences required by a demanding clientele. The hotel does not include a restaurant, but provides guests with room service from the best restaurants nearby.
Amenities Hotel Stofella
The Hotel Stofella features 60 rooms, available as Single, Twin Double and Triple. All of the rooms feature luxurious furniture, air conditioning, two telephones, automatic locks, cable TV, safety boxes, hairdryer and high-speed Internet access on request. The rooms are a combination of a European sense of style and Antiguan decor with a private art collection adorning the walls; custom made armoires and ample room for clothing. The bathrooms have natural stone accents with bathtub including showers. Non-smoking rooms on request.
The Hotel Stofella is an excellent value in the heart of Guatemala City - a good location and the modern amenities throughout the hotel guarantee a pleasant stay.

Hotel Amenities:
Room Amenities:
Bar
Fax / Secretarial Services
Exercising Equipment
Parking
Jacuzzi
Laundry Service / Dry's Cleaning
Cable TV / Radio / Alarm
Telephone / Voicemail
Room Service
Non-smoking rooms
Air-Conditioning
Data Port
Safety Deposit Box
Reservation
Hotel Stofella
To reserve this hotel, please complete this form, along with any comments. Required fields are marked *