Guatemala
Top Destinations
Colonial City of Antigua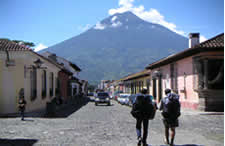 Antigua is among the world's best conserved colonial cities. A magic and captivating small town that makes you feel time might have stopped some 300 years ago. From its colonial architecture to its beautiful surroundings; strolling through town on the cobblestone streets will make you feel like some centuries ago!
Day 1:

Upon your arrival in Guatemala City one of our drivers will wait at the exit of the airport for you with a sign reading your name. He will transfer you to the Colonial City of Antigua. The transfer to Antigua is in one of our recent minibuses and takes 60 minutes approx.
You will have a chance to visit the beautiful cobblestone streets of the town founded by Spanish Conquistadors, richly textured ruins and the friendly residents of Antigua Guatemala. You may also visit many museums that showcase original colonial art, silver work and religious statues. You will be picked up by our tour guide for a tour of the city. The tour includes visits to the Capuchinas Convent, The Merced Church, Central Plaza, Casa Kojom (Music and Coffee Museum) and Casa Popenoe. Tipical lunch and dinner in a fine restaurant of Antigua are included
Day 2:

After your breakfast at the hotel of your choice take a free morning to explore on your own the beautiful cobblestone streets of Antigua. In the afternoon, transfer back to Guatemala City.
This Tour Package Includes:

• Lodging one night
• Full breakfast second day
• Round trip transportation from Guatemala City
• Guided tour of Antigua
• Entrance fees
• Typical lunch and dinner for the first day
Bring:
• Comfortable shoes
• Sun protecion (hat)
• Binoculars, camera
Guatemala
Reservation
Services
2 Day Tour: Colonial City
of Antigua
Price per Person:
Deluxe Category
Standard Category
Budget Category
includes taxes

All prices are quoted
per person:

Length:
2 days, 1 night
Trips leave:
everyday
Minimum of Persons:
2
Hotels:
Deluxe Category
Standard Category
Budget Category