Description Santo Tomas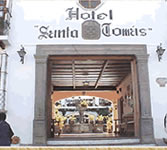 The Hotel Santo Tomas is an idyllic Hotel in the famous "Quiche Village" of Chichicastenango. It is located just a few minutes stroll from the Indian Market and the Church of Santo Tomas. The Hotel Santo Tomas is an attractive place that features a collection of Spanish colonial art, beautiful flowers and exotic birds. The Hotel Santo Tomas has forty-three spacious rooms with fireplaces and all of them are individually decorated. Their restaurant overlooks the courtyard and serves good local and international meals.
Amenities Santo Tomas
All rooms at the Hotel Santo Tomas feature two double beds, fireplace, private showers and telephone. Easily accessible, on the second floor you will find a swimming pool, Jacuzzi and a small gym. Enjoy the installations of the Hotel Santo Tomas while you have a cultural experience of Chichicastenango. If you want total peace and then select Monday or Tuesday night. Since there is no market days before or afterwards, you will have the place to yourself. If you want to enjoy the hustle and bustle of the Quiche Maya market days (Thursday and Sunday) then stay overnight Wednesday, Thursday, Saturday, or Sunday.

Hotel Amenities:
Room Amenities:
43 rooms with fireplace
Restaurant & Bar
Safe Parking
Swimming Pool
Art Collection
Central Location
Reservation
Hotel Santo Tomas
To reserve this hotel, please complete this form, along with any comments. Required fields are marked *