Description Hotel Petex Batun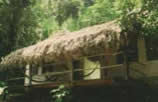 Imagine yourself walking through a cloud covered tropical jungle among centuries old palaces, or hiking rainforests with abundant animal and plant life.
The Petex Batun Lodge has 8 rooms in 4 double bungalows, each room has its own private bath with running water and electricity.
Amenities Hotel Petex Batun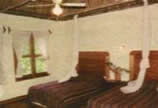 Each palm-thatched roof bungalow has a balcony overlooking Petexbatun Lagoon with hammocks to enjoy the view and appreciate the sounds of the jungle. Additionaly to the bungalows, the old building features 4 rooms with a total of 18 bunk beds sharing 2 toilets and 2 showers.
The Petex Batun Lodge offers delicious national and international dishes in our restaurant. The surroundings are great for walking and exploring nature at its best.
You may visited by howler monkeys or enjoy the taste ob "Blanco" fish that our cook will prepare for you with pleasure.

Hotel Amenities:
Room Amenities:
Ceiling Fans
Balcony with hammocks
Reservation
Hotel Petex Batun
To reserve this hotel, please complete this form, along with any comments. Required fields are marked *