Description Chiminos Island Lodge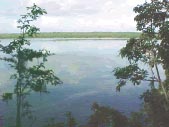 The Chimino's Island Lodge is located in Punta de Chimino, on the beautiful Petexbatun Lagoon, in Guatemala's jungle region. The Chimino's Island Lodge offers 5 attractive mahogany bungalows, each perfectly nestled in the jungle and several hundred feet away from each other, so you can enjoy your own private rainforest and the overwhelming views of the lagoon.
Each bungalow at the Chimino's Island Lodge has its own private bathroom, hot water and the rooms completely protected from insects and other animals. You will be surprised by the luxury and cleanlyness, unusual in these types of jungle lodges.
Amenities Chiminos Island Lodge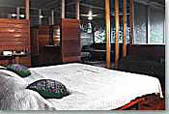 The property is crossed by pathways, where you will experience intimate contact with the jungle, its impressive wildlife and the remains of the fortified Mayan citadel, for the most part still unearthed.
At the Chimino's Island Lodge you can combine your ecological and archaeological interests with the opportunity to relax in beautiful and peaceful surroundings. On-Site activities include fishing, swimming, canoeing and bird-watching. You can also hit the hiking trails that take you into the jungle and to the Mayan Citadel. It's almost like being the discoverer of this Mayan site! Different tours to nearby Mayan Sites are also available and recommended
You can get to Chimino's in a 45-60 minute drive from the Flores Airport via Sayaxche. From there you will take a boat for a 1 ½ hour river cruise to Lake Petexbatun.

Hotel Amenities:
Room Amenities:
Fishing
Bird watching
Canoeing
Swimming
Reservation
Hotel Chiminos Island Lodge
To reserve this hotel, please complete this form, along with any comments. Required fields are marked *