Description Jungle Lodge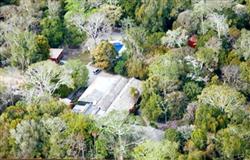 The Hotel Jungle Lodge is located only 1 km from the Central Plaza of Tikal. Its is one of two hotels within the boundaries of the National Park, surrounded by the pristine rainforest in Peten. The Jungle Lodge is the place where you want to be!! Beautiful and comfortable bungalows are nestled in exuberant nature. The Hotel provides guided services to the archaeological sites, bird watching tours and transportation to many other sites in Peten.
Amenities Jungle Lodge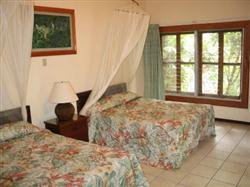 The Jungle Lodge also has a swimming pool where you can admire the keel-billed toucans, howler and spider monkeys. The accommodations include hot and cold showers, two double beds, ceiling fans, private porch and a symphony, courtesy of the jungle. After an exciting day of discovery and exploration, you can relax with a refreshing drink from bar and later, enjoy a candle light dinner in our restaurant.
The Jungle Lodge is located in the National Park of Tikal. The only source of power is a generator located at the research facility of the park. Therefor the hotel has limited electricity and no power between 10 PM and 6 AM.

Hotel Amenities:
Room Amenities:
Bird watching
Comfortable bungalows
Hot and cold showers
Two double beds
Ceiling fans
Private porch and a symphony
Courtesy of the jungle
Reservation
Hotel Jungle Lodge
To reserve this hotel, please complete this form, along with any comments. Required fields are marked *