Description Hotel Marina Copan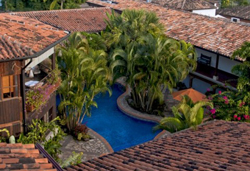 For half a century, the Hotel Marina Copanl has been at the heart of every Copan Experience. Overlooking Central Plaza in the charming town of Copan Ruinas, the Hotel Marina Copan This was named in honor of Doña Marina Welchez, and built on the site of her family home in 1945. A radition in Copan was this original hotel, home to generations of investigators and Maya enthusiast. Today, a modern hotel, yet jealously guarding the town's colonial architectural heritage, the Hotel Marina Copan is your most comfortable and convenient base for exploring the fascinating Copan Maya, and the diverse natural landscape that they left behind.
Amenities Hotel Marina Copan
The Copan Experience is even more than the Magnificient Copan Ruins; horseback riding to remote Maya sites, hot springs, hiking in tropical forest, bird watching, cofee and tobacco plantations, indigenous villages, and a relaxed adult nightlife. There´s so much to do, you´ll wish you could stay longer, and you can.Called the "Athens of the New World, Copan is considered the Maya´s Crowning artistic achievement, leader in quantity and quality of stone sculpture. After decades of nearly continuous archaelogical investigation, Copan is the most thoroughly studied and best understood of all Maya Cities. A visit to Copan is a must for anyone looking for insight into Maya mind.

Hotel Amenities:
Room Amenities:
Restaurant / Bar
Swimming pool
Gardens
Bird watching
Reservation
Hotel Marina Copan
To reserve this hotel, please complete this form, along with any comments. Required fields are marked *