Caribbean's Taste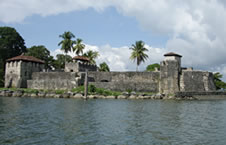 Izabal is an excellent place for fishing, diving, water skiing or practicing any other water sport, combining it with visits to archaeological sites and get in touch with nature. The Rio Dulce (sweet river) runs about 40 kilometers from Lake Izabal before it empties into Amatique Bay at Livingston. Livingston is a charming town located at the mouth of the Rio Dulce, is unique in Guatemala due to its Garifuna culture!
Day 1:
After breakfast at your hotel in Guatemala City our driver will transfer you to Amatique Bay with a stop in Quirigua that contains the largest stele ever discovered in the Mayan world.
This is one of the smallest Mayan cities, but one of the most notable due to its splendid series of monuments. Then your journey continues to Amatique Bay Resort and Marina. You will have the afternoon at leisure to relax and enjoy the amenities of the resort.
Day 2:
After breakfast you will be transferred to Livingston from the Hotel Amatique Bay. Explore this Garifuna town on your own.
Then the boat will transfer you to Rio Dulce where you will enjoy the views along the way. Visit the natural wildlife reserve of Biotopo Chocon Machacas where, if lucky you will be able to see a wild manatee in its natural habitat. Upon your arrival in town our driver will transfer you back to Guatemala City.
This Tour Package Includes:
* Lodging one night at Amatique Bay Resort
* Full breakfast second day
* Round trip transportation from Guatemala City
* Boat ride to Livingston and Rio Dulce
* Entrance fees to Quirigua
* Taxes
Bring:
• Comfortable shoes
• Sun protecion (hat)
• Binoculars, camera