Description Posada del Hermano Pedro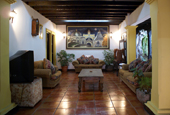 The colonial house dates from the 16 th. Century. It is well know as the Palace of Doña Leonor who was the daughter of Don Pedro de Alvarado, a famous spanish conquistador.
The house was converted to an hotel in the last Century, and was renamed Posada del Hermano Pedro, a franciscan brother and Saint. Here at the Hotel we pride ourselves on a long tradition of hospitality, security and comfort for our guests.
Our Hotel has a mixture of colonial style and modern features and we are located in the center of Antigua.
Amenities Posada del Hermano Pedro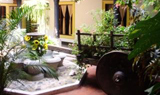 Awakening in this hotel has it's magic, very early the burnish bell of it's main fold churches begin to ring and the flow of the crystalline waters in it's fountains will wet your appetite for a succulent breakfast. Get ready.
We have a beautiful courtyard garden with fountains, every room is tastefully decorated in a colonial style, has an en-suite bathroom with constant hot water and cable TV.

Hotel Amenities:
Room Amenities:
55 rooms
Garden
Colonial style
Reservation
Hotel Posada Hermano Pedro
To reserve this hotel, please complete this form, along with any comments. Required fields are marked *