Description Palacio Doña Beatríz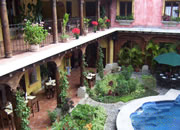 The Hotel Palacio de Dona Beatriz is a sophisticated luxury hotel, located in Antigua's best residential area just four blocks from the Art Gallery. The hotel is close to the finest restaurants of Antigua, the typical shops and other attractions, but away from the commotion of the town center.
Amenities Palacio Do˝a Beatriz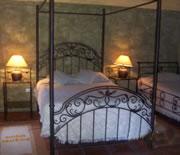 The Hotel Palacio de Dona Beatriz will greet you with Antigua's charm, composed of 10 boutique bedrooms with all the modern amenities including TV cable, private bathrooms and a jetina bath. Internet service is also available. Guests are invited each morning to the breakfast hall and to relax with the beautiful garden and fountain.

Who was Doña Beatriz de la Cueva?
She got married to Pedro de Alvarado, the conqueror from Guatemala as well of the rest of Central America, and the founder of Guatemala as a colony from Spain.
This Boutique Hotel "El Palacio de Doña Beatriz" is as unique as the people who stay there! It offers personalized service, luxury accomodations, for business or leisure travel. With rich interiors and custom designed furnishings, guests enjoy a comfortable, residential feeling. Once you stay here you may find it hard to leave.

Hotel Amenities:
Room Amenities:
Art Gallery
Garden
Internet
10 boutique bedrooms
Cable TV
Private bathrooms and a jetina bath
Reservation
Hotel Palacio Do˝a BeatrÝz
To reserve this hotel, please complete this form, along with any comments. Required fields are marked *