Description La Lancha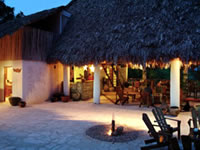 The Hotel La Lancha is a beautiful lodge overlooking Lake Peten Itza. It is located a thirty-minute drive away from the Mayan site of Tikal and an hour's drive from the Belizean border. The lodge offers secluded guest casitas brightly decorated with native art furnishings and featuring two rooms, queen-size beds, decks with hammocks and private bathrooms. Lakeview casitas also offer large marble tile bathrooms, antique Balinese and Guatemalan furniture and breathtaking views of the lake. There is also a restaurant specializing in regional dishes, bar, swimming pool and gift shop. Recently opened in 2004, the lodge is owned by movie director Francis Ford Coppola. His other hotels are Blancaneaux Lodge and Turtle Inn in Belize.
Amenities La Lancha
It is just a short walk to the lake where you can swim, canoe, kayak or fish. There are numerous trails for hikes to explore the local flora and fauna and for bird watching. From the main lodge, winding paths lead to secluded guest Casitas. There are six Rainforest Casitas nestled in the forest with a partial view of the lake and four Lake View Casitas with a large deck with hammocks and chairs that provide a comfortable setting for views of the lake and rainforest. Antique Balinese and Guatemala furniture through. Be prepared for visits from the friendly howler monkeys that come up to the edge of the decks.

Hotel Amenities:
Room Amenities:
10 casitas
Swimming Pool
Gift Shop
Restaurant & Bar
Close to Tikal
Native art furnishings
Queen-size beds
Hammocks
Private bathrooms
Reservation
Hotel La Lancha
To reserve this hotel, please complete this form, along with any comments. Required fields are marked *