Description Tikal Inn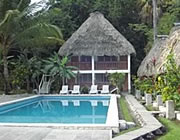 The Hotel Tikal Inn is only a 10 minute walk to the center of the Mayan ruins (Plaza Major). With traditional architecture, the Inn is located at the edge of the jungle. Its is one of two hotels within the boundaries of the National Park, surrounded by the pristine rainforest in Peten.
Amenities Tikal Inn
The Hotel Tikal Inn has 17 rooms as well as bungalows. All rooms have private bathrooms and are clean and simple. The area where the park is located has a tropical climate. Rain is falling all year round, especially between May and November. The rainiest months are June, September and October with levels that exceed 200 mm, the rest of the months are over 100 mm. The rain levels do not exceed 100 mm between December and March.
The Tikal Inn also features a swimming pool and in the hotel gardens you can admire the keel-billed toucans, howler and spider monkeys. The accommodations at the Tikal Inn include showers, two double beds, ceiling fans, private porch and a symphony, courtesy of the jungle.
The Tikal Inn is located in the National Park of Tikal. The only source of power is a generator located at the research facility of the park. Therefor the hotel has limited electricity and no power between 10 PM and 6 AM.

Hotel Amenities:
Room Amenities:
Swimming pool
Bird watching
Gardens
Showers
Two double beds
Private porch and a symphony
Ceiling fans
Courtesy of the jungle
Reservation
Hotel Tikal Inn
To reserve this hotel, please complete this form, along with any comments. Required fields are marked *