Description Los Sueños
La Casa de los Sueños es una maravillosa mansión colonial recientemente renovada y convertida en un hotel en el corazón de Antigua.

Sus 8 hermosos cuartos de lujo ofrecen ventanas de estilo colonial, artesanías locales y colchas hechas a mano con textiles tejidos a mano. Baño privado, televisión por cable y líneas telefónicas directas son estándares en La Casa de los Sueños.
Amenities Del Patio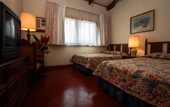 All rooms at the Hotel Del Patio are equipped with cable TV, telephone, private bathrooms, beautiful corridors for resting and personalized attention. The Restaurant La Fuenta seats 45 people and also offers box lunches to those adventurous travelers who begin their adventure in the Mayan World from the very early morning hours.
The Hotel Del Patio is located only a few steps from Lake Peten Itza in Flores and offers comfortable rooms that makes this small hotel an excellent option for budget travel.

Hotel Amenities:
Room Amenities:
Restaurant
Room Service
Laundry Services
Currency Exchange
Conference Facilities
Box Lunches
Cable TV
Telephone
Corridors to rest
Private Bathroom
Reservation
Hotel Los Sueños
To reserve this hotel, please complete this form, along with any comments. Required fields are marked *