Description Casa Azul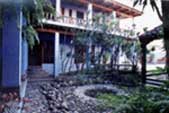 The Hotel Casa Azul is located in the heart of Antigua in Guatemala. About a hundred meters from the cathedral and at very short distance from other main tourist sites of the city.
La Antigua de Guatemala was founded in the XVI century and was the capital of the Guatemalan kingdom for more than two hundred years until it was partially destroyed by the Santa Marta earthquake in 1773. In the present, this city is a real colonial architectural jewel, and that is why the architecture of Hotel Casa Azul is based on the XVI and XVII century from which a large part could be rescued and is now displayed. This has been an inspiration to continue the contemporary areas with the same philosophy of patios, halls, fountains and gardens, with the classic bouganvilleas and a huge variety of flowers.
Amenities Casa Azul
The Hotel Casa Azul integrated many historic pieces in its decoration, such as ceramic tiles, copper lamps, furniture and hand made textiles. In a romantic and peaceful ambiance, the Hotel Casa Azul provides for a home for the traveler, a perfect place to discover the cobble stone streets, the beautiful parks, fountains, palaces and churches that adorn Antigua. At the Hotel Casa Azul you can enjoy excellent vacations and make them unforgetable.

Hotel Amenities:
Room Amenities:
Reservation
Hotel Casa Azul
To reserve this hotel, please complete this form, along with any comments. Required fields are marked *