Description Hotel Palacio de Doņa Leonor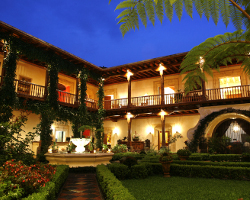 The Hotel Palacio de Leonor is located in the heart of Antigua. It is historic building from the 17th century and hosts important pieces of art and numerous antique which makes this hotel truly special. After a 2 year renovation, the Hotel Palacio de Dona Leonor invites you to enjoy the 12 luxurious rooms and suites that surround the original courtyard. Their Staff provides you with an individual and personalized service! This is a magnificent hotel with a central garden, fireplaces and upscale rooms. It is within walking distance from the main attractions of Antigua: The Cathedral, the Palace fo the Captain General, the main Plaza and the Palace itself.
Amenities Hotel Palacio de Doņa Leonor
Each of the rooms and suites at the Hotel Palacio Dona Leonor is warm and welcoming. They are all unique in style and represent architectural décor from the past. All rooms and suites are spacious and feature separate tub and showers, Egyptian cotton sheets and delicious night-time treats. From colonial furniture to antique chandeliers, everything at this hotel has been handpicked with love and attention to details. You will also find a restaurant that serves local and international dishes and a bar & lounge. There is also a tea room where guests receive a full breakfast, including organic eggs, local fruits and daily baked, fresh bread.
The Hotel Palacio Dona Leonor offers 12 luxurious rooms and suites in the heart of Antigua and stands out as a magnificently restored Mansion from the 17th century.

Hotel Amenities:
Room Amenities:
Restaurant
Bar & Lounge
Wireless Internet
Jacuzzi
Boutique Hotel
Laundry services
Valet parking
Courtesy tea and water
Cable TV & DVD Player
Traditional furniture
Noise abating windows
Security boxes
Telephone/Voice Mail
Luxury bath accessories
Slippers and bathrobes
Reservation
Hotel Palacio de Doņa Leonor
To reserve this hotel, please complete this form, along with any comments. Required fields are marked *