Description Hotel Clarion Copan

Hotel Clarion Copán is just 3 minutes from the Archeological Park and the town of Copan. Situated on a hill and surrounded bye mountains, the Posada Real de Copan offers attractive panoramic views. And the tobacco plantations next door can be appreciated in all their splendor.
Amenities Hotel Clario Copan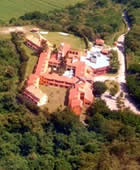 The Posada Real de Copan features 80 beautifully appointed, air-conditioned rooms, all of them equipped and furnished according to the requirements of a modern international first class hotel.
The Posada Real de Copan offers both local and international cuisine. Our 100 seating capacity main restaurant is open from 6:00 a.m to 10:00 p.m
Our Meeting Room is ideal for conventions, social events and working sessions. Seats groups up to 120 persons. Our parking area can handle large buses and up to 50 cars.
The Copan Archaeological Park and site Las Sepulturas, Archaelogical Park El Puente, Mayan Sculpture Museum, Archaelogical Museum, Colonial town of Copan Ruins. Day tours to the colonial towns of Santa Rosa de Copan and Gracias, Lempira, can also be arranged.
Hotel Amenities:
Room Amenities:
Restaurant
Local / International Kitchen
Metting rooms
Parking
80 Rooms
Air conditioning
Reservation
Hotel Clarion Copan
To reserve this hotel, please complete this form, along with any comments. Required fields are marked *