Description Hotel Casa Duranta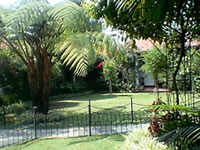 The Hotel Casa Duranta is a newly inaugurated hotel in the city of Coban. It is located close to the picturesque Central Park and to the interesting Museum of Prince Maya. Cobán is also the center of one of the more important natural areas of Guatemala: Grottos, rivers with cascades, breeding grounds of orquídeas and other important natural reserves.
Amenities Hotel Casa Duranta
The rooms are ample, cozy and decorated with special taste including cable TV. In addition the hotel offers private parking, Internet corner, safe-deposit box and a beautiful courtyard garden, everything in a calm and pleasant atmosphere. Definitively Casa Duranta is the best hotel in Cobán and perfect to visit the natural beauties of the area.

Hotel Amenities:
Room Amenities:
Internet corner
Central location
Courtyard
8 double rooms
2 single rooms
Cable TV
Safe-deposit box
Reservation
Hotel Casa Duranta
To reserve this hotel, please complete this form, along with any comments. Required fields are marked *