Description Hotel Pension Bonifaz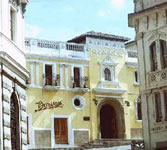 Mr. Jorge Mario Bonifaz, Owner and General Manager cordially welcomes you to Pension Bonifaz in the beautiful Quetzaltenango located about 200 km west of Guatemala city. This magnificent colonial family-owned Hotel was originally started by Mr. Bonifaz senior on March 7, 1935 and today is one of the best hotels in town with capacity of 75 rooms. Pension Bonifaz is conveniently located across the main central park in Quetzaltenango, which is the center for most commercial and entertainment activities in the city.
Amenities Hotel Pension Bonifaz
Facilities:
53 doubles, 16 singles, 2 large singles, 3 junior suites and, 1 presidential suite. All rooms offer wall-to-wall carpeting, private bathroom, hot water, color TV w/cable and private phone.

Hotel Amenities:
Room Amenities:
Full international restaurant
Cocktail lounge
Boutique
Meetings for up to 400 people
Full line of catering
Extensive parking
Indoor pool
Jacuzzi
Laundry facilities
Fax service
Security deposits
Room service
Reservation
Hotel Pension Bonifaz
To reserve this hotel, please complete this form, along with any comments. Required fields are marked *