Mountain Biking Guatemala
Antigua Valley Special
Half or 1 day Mountain Biking
"The best way to know the surroundings of colonial Antigua"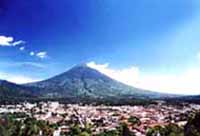 This scenic mountain biking ride brings us more to the west of Antigua and its three volcanoes: Agua, Fuego and Acatenango. Stop at Guatemala's oldest church, the famous macadamia nut farm and an interesting coffee plantation. You Mountain bike through the famous weaving town of San Antonio Aguas Calientes with its colorful market. Enjoy breathtaking views of the area before heading back to Antigua.
Level:
All of our Mountain Biking journeys are designed for all ages and abilities. This way we can meet your expectations and get you the most out of your vacation.
Please choose your level when you sign up.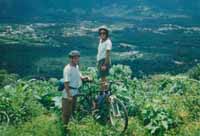 Several favorite journeys have emerged through the years and we offer those as standard tour packages. Keep in mind that these are still only outlines for your trip. Tailoring each journey to meet your expectations is part of the fun.

Warning: This is not a tour, it is an adventure packed journey that will bring you up close and personal with the incredible beauty and diversity of Guatemalan landscape and culture.
What to bring / wear:
• Sport shoes
• Sun block
• Sunglasses
• Shorts
• Wind or rain jacket
• Sweater and a big smile !



Antigua Full day includes:
• Quality mountain bike
• Helmets & gloves
• Purified water
• Qualified bilingual guide
• Entrance fees to coffee and macadamia plantations
• Delicious typical lunch and all transfers.